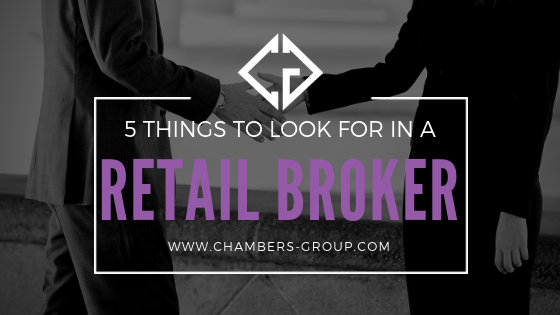 5 Things to Look For in a Retail Broker
If you're looking into investing in a commercial property, you will need to find a Retail Broker that will be able to help you accomplish this. With so many Retail Brokers to choose from it's important, you pick someone who will work best for you.
Here are some tips on what to look for when hiring a Retail Broker.
Experience
Having experience on your side is the most valuable tool you can have when searching for a commercial property. Your broker can have all the market knowledge and impressive accreditations in the world, but that will only get you so far. In order to truly be qualified in commercial real estate, your broker has to have specialized experience.
When you're interviewing potential brokers, look for a broker that specializes in and works exclusively with commercial real estate as it is important for them to be familiar with the intricacies of marketing and selling/leasing a commercial property. Don't be shy when asking potential brokers questions, ask how long they have been working in commercial real estate and about their recent work helping clients buy, sell, or lease. If you need more validation, ask if they would be willing to provide you with some references.
Knowledgeable About the Local Market
Real estate markets tend to vary from state-to-state and can even differ significantly within the same city. Your broker should be well-versed in the area's history and the current market, as well as be able to predict future changes that can help you make a smart investment.
Marketing Skills
When it comes to selling or leasing commercial space, there is a lot more involved than simply putting up a listing. Find an agent that is tech-savvy and proactive, not someone who sits back and waits for potential buyers or tenants to come to them. By utilizing social media and digital platforms alongside more traditional marketing tactics, your agent has greater access to potential buyers and tenants than ever before – you want to make sure the person working for you is using these tools correctly to help you.

Well Connected
Having the broker representing you be well connected in the local community and within the real estate industry can be very beneficial for you. This edge allows you to be the first to hear about listings that have yet to hit the market. You'll also have access to their network of reputable attorneys, architects, and contractors, and more.
Communication is Key
The broker you choose is going to be working for you for months to come, sometimes years, and will be instrumental in helping you make critical decisions. Dealings in commercial real estate are complicated and sometimes unexpected, situations are bound to pop up that can make the process long and unpleasant. Having an agent that puts you and your needs first can help make the process as smooth and stress-free as possible.
To learn more about choosing the best retail broker, contact the retail experts at The Chambers Group. Since its founding in 1999, The Chambers Group has established itself as one of the leading Tenant and Landlord representative brokerage firms in the Southeast. Contact us at 704-752-8350 for our Charlotte office or 919-900-2201 for our Raleigh office. Email inquiries can be sent to info@chambers-group.com.