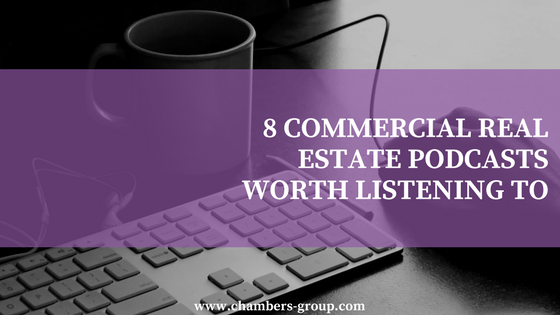 8 Commercial Real Estate Podcasts Worth Listening To
With new laws, emerging investing strategies, and market updates, staying current in the Commercial Real Estate industry can be difficult no matter your level of experience. Thanks to the popular digital world of podcasts, staying on top of your industry news just became a lot easier.
To save time and effort, we have compiled 8 real estate podcasts worth listening to. Add to your commute to work or gym workout, you'll get a variety of personalities and a wide range of insightful and inspiring topics. Here's our list of commercial real estate podcasts to add to your daily routine.
1.) BiggerPockets
Every Thursday you can catch these two fan favorites Brandon Turner and Joshua Dorkin. One of the top watched series in the industry, the show covers everything from rental properties, quickly scaling your business, to how a teacher made millions investing in real estate. BiggerPockets tackles it all and at every experience, level making this a podcast worth listening to.
2.) The Real Estate Guys
If you're looking for a Commercial Real Estate Podcast with experts who have put in the years of experience than look no further. The Real Estate Guys Robert Helms and Russell Gray have been on the air since 1997! If after listening to you still can't get enough of this number one podcast on Itunes, you can dive into their blog, and newsletter for additional tips, market insights, and answers to any investing questions you may have.
3.) The Commercial Investing Show
The phrase practice what you preach comes to mind as you listen to host Jason Hartmon discuss his focus on commercial real estate investing. Not only an expert in knowledge but Jason has experience in what he discusses as he owns properties in 11 different states and 17 cities. This Commercial Real Estate Podcast will give you a creative take on investing in Commercial Real Estate.
4.) The Commercial Real Estate Show
Not to be confused with the Commercial Investing Show as discussed above, this podcast offers listeners a rare combination of intelligence and charming personality. Host Michael Bull has been on the air for 6 years adding to is equally impressive career experience of 30 years in sales and leases. Michael's topics vary from Commercial Interest Rates, general paperwork, to success stories. You can enjoy listening to him every week for an hour.
5.) Best Real Estate Investing Advice Ever
If you're reading this and thinking "I don't have the time to listen to a 60-minute podcast." Then this is the show for you. Joe Fairless is a unique voice to pay attention to, controlling over $101 million worth of real estate his success makes for an interesting podcast. His topics range from real estate sphere to investing in rehabbing properties, and as an added bonus his episodes last around 30 minutes or less.
6.) PropTech Podcast
Interested in the digital side of Commercial Real Estate? Look no further you have found the Commercial Real Estate Podcast for you. Hosts Eddie Holmes and James Dearsley talk you through their insights of challenges companies face and how they can overcome them by adapting to an increasingly digital world while simultaneously taking advantage of this opportunity for growth purposes. Diving into different industry topics each episode, this show is a must-listen for those wondering how technology is impacting Commercial Real Estate.
7.) Real Estate Today Radio
Traditionally podcasts have one or two hosts but Real Estate Today has a team of hosts giving you an added bonus of extra insights into the world of Real Estate. Stephen Gasque, Jane Dollinger, and Bill Thompson are the brains behind the show hosting Interviews, call-ins, and specialized segments making this podcast not only interactive but informative as well.
8.) Cashflow Diary
Those familiar with the name J. Massey know that he is a man of multiple titles and his podcast cashflow Diary is just another bullet on his long list. A real estate investor, entrepreneur, author, speaker, and coach, Massey shares his knowledge and experience in investing in real estate with his listeners. With a background in financial planning and insurance, Massey used his expertise to advise his listeners on investing in his 45-minute episodes.
These 8 podcasts are excellent for retail tenant representatives and landlord representatives. At The Chambers Group in Charlotte NC and Raleigh NC, we like to stay on top of the latest news and trends in commercial real estate. These podcasts help keep us up to date when serving our clients.
Questions? Contact us today!