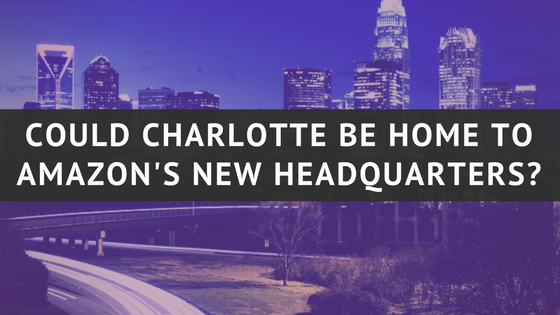 Could Charlotte be home to Amazon's new HQ2?
The e-commerce giant is on the hunt for the perfect location to service their expansion plans. On September 7th Amazon announced they are now accepting proposals from North American Cities that follow their specified contingencies. This new headquarter is estimated to cost $5 billion to build and bring 50,000 high-paying jobs to the chosen area.
HQ2 is expected to be similar to their Headquarters in Seattle, Washington which currently houses 40,000 employees, and spans over a distance of 8.1 million square feet including 33 buildings, and 24 restaurants.  The ideal Headquarters according to Amazon's chief executive Jeff Benzos, will be "full equal to our Seattle headquarters."
Bids from Metropolitan areas with a population of more than one million people, and regions that provide "a stable and business-friendly environment;" suburban or urban locations with the potential to attract and retain strong technical talent; and communities that "think big and creatively when considering locations and real estate options," will be prioritized Amazon stated. CBS news spoke with Amazon representatives, who were quoted saying "the company will likely choose a major city where at least 33% of the population has a college degree or higher," which Charlotte qualifies for.
The Seattle headquarters operations from 2010 through 2016 estimated that amazon's investments have brought $38 billion to the city's economy which is why each city is racing to be considered.  As for Charlotte's efforts, both Charlotte Regional Partnership CEO Ronnie Bryant and Charlotte Chamber CEO Bob Morgan were in an agreement to "aggressively pursue this opportunity." "This is a transformative opportunity for our region. We are prepared to support any location within our region that is competitive. It is also an unprecedented opportunity to engage our public sector, private sector and the not for profit sector in a team effort to put our best foot forward."
Charlotte is a strong contender thought by many besides those who live here. The Washington Post included Charlotte in their list of 39 metros that could win, as well as PC Magazine that included Charlotte as one of the "6 US Cities Amazon Should Consider for its Second HQ."
As for now, we all must patiently wait for Amazon to release its final decision on October 19, 2017.