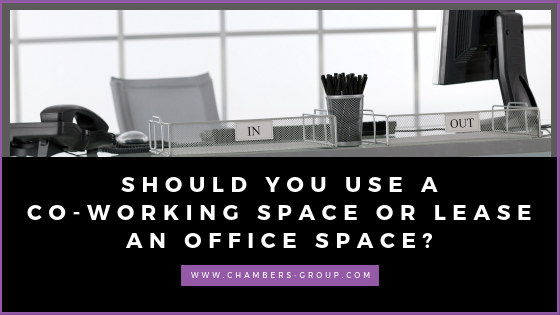 Should You Use a Co-working Space or Lease an Office Space?
If you're looking for a new office space, you have probably asked yourself if leasing a commercial space or leasing a coworking space is the best option for your business.
Which approach is best for your business? Here we break down the benefits of each option.
The Benefits of Co-working Space
Cost
Co-working spaces are much more affordable in a short-term capacity, plus, commitments are generally much shorter than a typical lease. Often co-working space leases are month-to-month. If your business is growing but you aren't quite ready to make a major cash investment, you could still maintain flexibility working in a coworking space.
Networking
Co-working spaces are often geared towards people who are in a similar industry, which makes them perfect for meeting people in your field. These spaces surround you with others in the same industry and the opportunity to network, allowing you and your employees to connect with other companies in the coworking space. Being in this type of atmosphere helps you stay on top of industry news and learn from other companies. This atmosphere can be especially meaningful if you have a more younger workforce.
Smart Office
Modern, smart offices are taking over the workforce. When you lease a co-working space, you no longer need to worry about your office having the greatest productivity tools. Your shared workspace should be a fully digital office utilizing coworking software that enhances your team's productivity.
The Benefits of Leasing a Commercial Space
Growth
When you lease a commercial space, you have the opportunity to grow into it. Co-working offers flexibility, but constantly moving can be distracting to your team. In addition, coworking workspaces often have limits on how big a company working in their space can be, so as your company grows, you will need a space that accommodates your team. When looking for a new office space, consider that it can be time and cost efficient to find one with room to grow from the beginning.
Focus and Privacy
Having your own leased office space will allow your team to focus more. Without the distraction of other companies, your employees can be more productive during the day. If your team needs to discuss sensitive company information, they won't have to be concerned about being overheard by a non-company member. Overall, research suggests the open floor plans, a central aspect of coworking spaces, hinders productivity.
Brand
Your office design should be both functional and reflect your brand. You can customize your office to match your brand and company culture. At shared workspaces, you don't have any control over the layout of the office or the decor, but in your own office space, you can create an atmosphere that embodies your company's success. Not only does this help employees understand your company's mission, but it also differentiates you from the competition when you are hiring new employees.
Overall, there are many factors to consider when finding a new space for your company. Both shared, coworking spaces and leasing a space have their advantages, and each company has their own set of unique circumstances. When evaluating the choices between the two, ask yourself several questions: Are you seeking social and learning opportunities? Do you need a space that focuses on and reflects your core values? What is your employee growth plan? At what career stage are the majority of your employees?
The retail experts at The Chambers Group are often involved in mixed-use developments, creating spaces for office, residential, and retail uses in populous communities. Often, they will know the up-and-coming office spaces in Charlotte or Raleigh and how those spaces will affect the neighborhood. Retail advisors have the knowledge to advise you on choosing the best space for your company.
To learn more about which option is for you, contact the retail experts at The Chambers Group. Since its founding in 1999, The Chambers Group has established itself as one of the leading Tenant and Landlord representative brokerage firms in the Southeast. Contact us at 704-752-8350 for our Charlotte office or 919-900-2201 for our Raleigh office. Email inquiries can be sent to info@chambers-group.com.