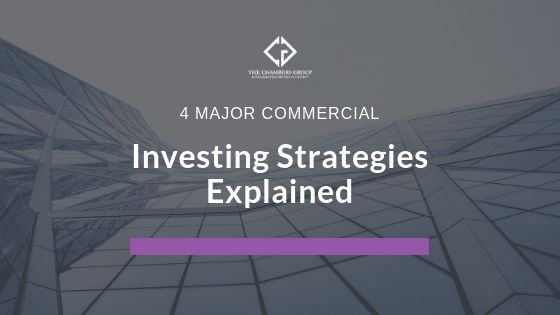 4 Major Commercial Investing Strategies Explained
There are four strategies investors use when looking at the different asset classes of commercial properties.

1. Core Assets
This pertains to major markets in downtown areas. This asset is the most conservative of the bunch. It's consistent. Cash flows aren't going to be incredible but tenants will.
These assets are usually the best during market downturns; they're the ones that are giving you consistent returns. And in the long-term, they are your good equity appreciation purchases. These assets are really a buy and hold, consistent strategy.
In terms of leverage, you're not going to be able to get more than 50 percent of the asset value, and that's just a function of the fact that you've pretty much topped out what you're going to be able to get for rent.

2. Core Plus
These may be a little bit outside of the downtown area—not Main Street but maybe a historical location. These are very similar to the core, but there may be value-add opportunities and the yield may be a bit higher, as well.
You're going to attract good-credit tenants but not as credit-worthy as the core. There may be a little bit more uncertainty with the renewals or potential incomes of those investments.
In terms of leverage, you're going to be able to add a little bit more debt onto these. But they still are fairly conservative, so you may be topping out around 65 percent of the asset value.

3. Value Add
These are entrepreneurial investors who look at a property and try to find the discounts (i.e., a retail plaza that just lost their anchor tenant). You're going in with a pre-meditated plan of taking a building from A to Z.
In terms of the leverage of value add, this is where you can start getting a little bit more creative, getting 80 to 85 percent of the asset value.

4. Opportunistic
Some investors refer to this as "distressed"—because it's exactly that. Other times its developer's building apartment buildings, condos, office, retail, etc.
This is the riskiest but has the potential for the most return. This could be distressed as in foreclosed assets or they could be completely decimated by vacancies (think smaller retail plazas that have lost tenants or C- and D-class apartment buildings in rough areas).
Investors can employ many of the same strategies as value-add investors, but it's just a matter of doing so on a more tricky property. This usually requires special expertise in a certain market.
When it comes to financing on opportunistic investments, it's a mixed bag. It can be much harder to get.
In fact, sometimes investors find properties where you cannot put any debt on them in their current state. The debt might come as the strategy is being executed. Hence, you really need to be an expert.
To learn more about investing strategies, contact the retail experts at The Chambers Group. Since its founding in 1999, The Chambers Group has established itself as one of the leading Tenant and Landlord representative brokerage firms in the Southeast. Contact us at 704-752-8350 for our Charlotte office or 919-900-2201 for our Raleigh office. Email inquiries can be sent to info@chambers-group.com.
Source and Credit: by Jesse Fragale, BiggerPockets.com